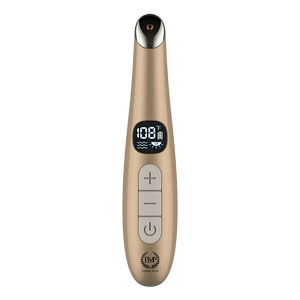 Empire Derma Eye Lift +
Regular price $1,300.00 Sale
Empire Derma Eye Lift + – Pioneering the Future of Eye Care

Upon encountering the Empire Derma Eye Lift +, it becomes evident that this device is tailored to cater to the nuanced needs of the sensitive skin surrounding our eyes. The challenges faced in caring for this delicate area have always been a concern for beauty and healthcare professionals. Therefore, when a tool emerges with a holistic approach to these challenges, it's hard not to take notice.

Design and User Experience

Sleek and effortlessly ergonomic, the Empire Derma Eye Lift + feels like it was meant to be in your hand. It's clear that its design prioritizes user convenience, ensuring a seamless integration into any beauty routine.

Triple Action Efficacy

Combining Red LED light, Thermal therapy, and Hyper sonic infusion into one state-of-the-art device speaks volumes about its forward-thinking approach. Each of these technologies is powerful in its own right, but their amalgamation in the Empire Derma Eye Lift + elevates its performance.

Red LED light: Renowned for skin revitalization, the LED light boosts cell renewal and encourages collagen synthesis, unveiling a fresher, brighter complexion.

Thermal Therapy: The gentle heat not only provides comfort but also supports pain alleviation, making it an oasis for those with recurring eye discomfort.

Hyper Sonic Infusion: This feature stands as the highlight. Enhancing the skin's absorption rate by sixfold, it ensures your cherished skincare products penetrate deeply, optimizing their potential.

Advantages

From diminishing eye puffiness to ironing out those pesky fine lines, the Empire Derma Eye Lift + delivers tangible results. The instantaneous effects are genuinely remarkable. Additionally, its assertion of 'zero side effects' is especially noteworthy. For an instrument offering thermal and LED treatments, this is a comforting guarantee.

Compatibility with Skincare Regimen

A distinct edge is how the Empire Derma Eye Lift + effortlessly aligns with your preferred skincare essentials. It doesn't tether users to a specific brand but instead enhances the impact of products they already have faith in.

Verdict

The Empire Derma Eye Lift + isn't merely another gadget in the beauty world. It's a meticulously designed solution that resonates with the intricacies of our eye area. Its immediate transformative powers are enticing, but the long-term benefits, amplified by the promise of no adverse effects, render it indispensable for all eye care aficionados. Whether you're navigating the initial stages of aging or aspiring to sustain your youthful glow, the Empire Derma Eye Lift + beckons a test run.