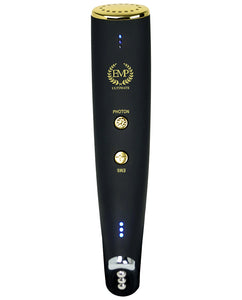 Parts
LED Treatment Head
EMS Treatment Head
LED Indicator Lights
LED Color Selector
EMS Intensity Selector
EMS Indicator Lights
Charging Socket
Charging Plug
WHAT YOU NEED TO KNOW:
EMPIRE TECH ULTIMATE is an FDA cleared 3-in-1 beauty device that uses LED technology and EMS to deliver an array of skin benefits. One side features LED lights, while the other has full EMS function.
LED Treatment: The LED side has 2 lights:Red and Blue.The red LED lights treats perioribital wrinkles while the blue LED lights reats acne. The 2-in-1 LED lights is perfect for those with multiple skin concerns and more complicated complexions. NOTE: LED lights will only illuminate when the device makes contact with the skin.
EMS Treatment: The EMS (Electronic Muscle Stimulation) function can help treat facial stimulation.
Light Emitting Diode Treatment (LED):
THE RED LIGHT
(620-730 nm Wavelength) The red light penetrates 8-10mm. Best for the treatment of periorbital wrinkles.
THE BLUE LIGHT
(430-450 nm Wavelength) The blue light penetrates 0.5mm. Best for acne-prone skin. The blue light will help treat mild to moderate inflammatory acne.
Electronic Muscle Stimulation (EMS):
The EMS Mode is indicated for facial stimulation.
LED Treatment Instructions:
Cleanse your face gently so that it is free of any makeup or cosmetics, this will provide you with maximum results.
Switch device on and select the light source of your choice. Red LED is to treat periorbital wrinkles, Blue LED is to treat mild to moderate inflammatory acne. The LED lights will only illuminate when the LED surface comes in full contact with skin.
RED LED: gently glide in an upward circular motion for 3-5 minutes per treatment area.
BLUE LED: apply directly to the area you want to treat and hold it for 3 minutes. You can do this every day until you get your desired results.
Unplug your device and clean with a damp cloth or paper towel. Be careful not to allow any moisture to penetrate the seams of the unit.
Place into base for charging until the next treatment to protect the device.
EMS Treatment Instructions:
Generously apply EMPIRE TECH ULTIMATE MicroCurrent Activator Gel to all treatment areas of your choice including cheeks, chin,T-zone, and forehead. This formula enhances the effect of the EMS function therefore increasing your results. Applying the primer gel to your skin will ensure your device delivers maximum micro-current conductivity.
Set device to Level 1 and place on your skin by gliding in an upward circular motion for 30 seconds per treatment area. You can control the intensity by pressing the button. One light is lowest, 3 lights is highest. You will feel a slight tingle, that means its working.
Gently clean off any remaining gel from your device with a clean soft cloth after every use.
After you've completed your first months treatment, use weekly for regular maintenance to achieve long lasting beauty results.
FOR BEST RESULTS:
Go Deep:

Concentrate on areas with the deepest wrinkles. Use slightly more pressure to create a entle massaging sensation with a combined LED/EMS repeated massage treatment, using upward circular motions and paying special attention to the deepest skin creases.

Exercise Eye Caution:

Do not use in immediate eye area and always keep eyes closed during treatment close to the eye area. Work in outward motions, starting at the deepest parts of the eye wrinkles, but no closer than the outer third of the eye area (never directly over your eyes, but rather near brow bone or above cheekbones).

Do not use directly on lips:

Target deep marionette lines running from below your nostrils to your chin area as well as tiny wrinkles and frown lines near your lips. Never use EMPIRE TECH ULTIMATE on the lips or eyes.